Blade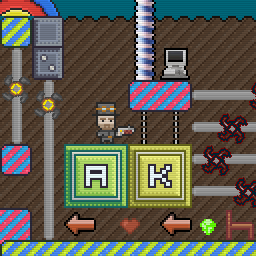 The one of the most common obstacle, blade, cuts Hero and takes 1 health point. Special, red blade which can be found in ???, takes 4 HP. Blade moves on a traction - mostly horizontally, vertically but also in shape of rectangle.
Blades can be frozen, it is a common way to deal with blades. Freezing blades is rewarded with Trickster achievement.
Occurence
Edit
Blades fill every of seven worlds, red blades are only in ??? world.
See also
Edit
Ad blocker interference detected!
Wikia is a free-to-use site that makes money from advertising. We have a modified experience for viewers using ad blockers

Wikia is not accessible if you've made further modifications. Remove the custom ad blocker rule(s) and the page will load as expected.