Egypt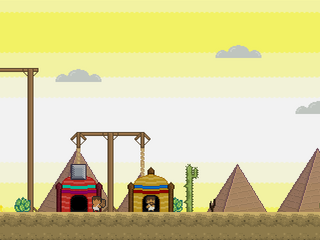 Egypt, the fourth world in Top Hat game. In this Hero uses all weapons up to Freeze gun.
Structure
Edit
The world has two single levels, two doubled stages and boss fight level. Oasis is the last room in this world.
Characters & Constructs
Edit
Enemies & Obstacles
Edit
To edit.
To edit
Unique objects
Edit
Quests & Achievements
Edit
To edit.
Ad blocker interference detected!
Wikia is a free-to-use site that makes money from advertising. We have a modified experience for viewers using ad blockers

Wikia is not accessible if you've made further modifications. Remove the custom ad blocker rule(s) and the page will load as expected.