Sashka is the first boss. He waits with the Stranger at the end of Dungeons.

Sashka comes from Russia and he is well known in his hometown for his strength and endurance. Unfortunately, Sashka is pathologically shy and has strong communication problems, his intellectual abilities are normal though. Therefore Sashka is commonly considered to be plain stupid. At the time he has been studying at Военная академия РВСН имени Петра Великого.
Character's MBTI
Edit
Sashka can be classified into INFP type (Myers-Briggs Type Indicator), but only his introverted part dominates. His shyness isn't a result of his introversion though.
Nothing more can be said about his personality.
Sashka runs with his gun (and some bombs) from the left to the right and the right to the left. Sashka is extremely consistent with his fight plan.
| | |
| --- | --- |
| Missile | |
| Description | Bomb |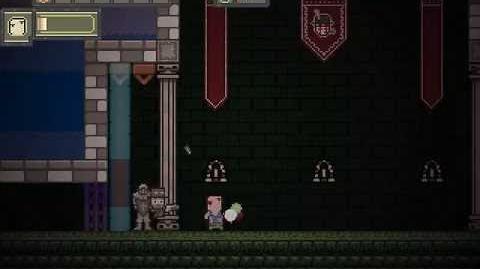 Ad blocker interference detected!
Wikia is a free-to-use site that makes money from advertising. We have a modified experience for viewers using ad blockers

Wikia is not accessible if you've made further modifications. Remove the custom ad blocker rule(s) and the page will load as expected.