Stone Golem
World
Forest
Health points
50
Stone Golem is the sixth boss. This construct protects Forest world.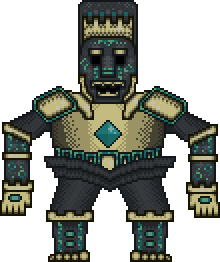 Stone Golem is a magical creature defending the deep lands of Forest. Probably the idea and realization of this golem comes from Maya people (others claim that from Juni people). Unfortunately, the biography of the golem is boring to the stone.
Stone Golem does not fight and even does not move. He is protected by a magical shield which can be temporarily removed by destroying the gems. Instead, Hero is attacked by meteors and fire walls falling from the sky.
Ad blocker interference detected!
Wikia is a free-to-use site that makes money from advertising. We have a modified experience for viewers using ad blockers

Wikia is not accessible if you've made further modifications. Remove the custom ad blocker rule(s) and the page will load as expected.